How to get more nail clients?
Posted on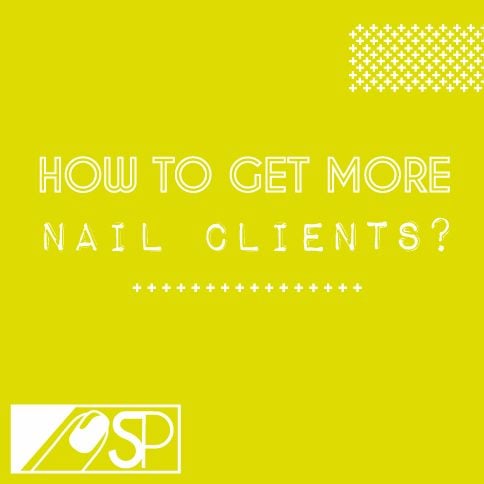 Building your client base 101..
You've got all the skills, you're prepped with all the equipment a nail tech could need (see our equipment checklist HERE) and now you need to get paying customers to hand over their hard earned cash. What do you do? We've put together a survival guide below of the best ways to market yourself and build your nail business.
---
1) Business cards. They are an essential tool. If you hand out 20 or more daily then the chances are it will return at least 1 customer. Leave them in hair salons, at your local corner shop, at friend's houses, the gym, takeaways, wedding shops, everywhere you go think 'can I leave a business card here'.
2) Get on the internet. You need a presence online, whether that be on social media or a simple but professional website so people can find you - have your contact details easy to find and a price list of treatments. Have a business profile for Facebook and Instagram, post pictures of your work looking stunning so people are inspired to get in touch. Let people know through social media when you have free slots for treatments.
3) Use hashtags on those social networks to get more exposure. Here's a list of popular nail tech hashtags to use on Instagram... #nails #nailstoinspire #nailtech #notd #nailsoftheday #gelnails #nails2inspire #nailstagram #nailpolishaddict #nailsofig #nailinspo there are plenty out there. Search out popular nail accounts and see what hashtags they use.
4) Leaflets. It may sound like an old way to get the message out there but it can be one of the easiest and cheapest ways to get your name known, especially if you are mobile and have no premises for people to know about. So get a leaflet printed that looks professional and post them locally.
5) Whatever marketing material you use make sure it looks professional. Don't just print something out on a word document. Vistaprint have plenty of pre-designed templates, or if you have the cash invest in getting business cards and leaflets properly designed.
6) Collect emails. You'll need to set up an email list (try mailchimp) and this can be fiddly, but it can also successfully generate a lot of interest for you. So send out emails regulary showcasing work you've done or details to make a booking for a treatment. You can collect phone numbers too but emails will always look more professional. Use our client profile download to collect all the info you need CLICK HERE.
7) Tell everyone about your credentials! It may sound silly but make sure your friends, family and the next door neighbough know you are a qualified nail technician. No one likes to blow their own trumpet, but it's worth passing out that business card and saying 'I hope you don't mind me giving you this, I'm just trying to spread the word about my business'. You'll be in the forefront of people's minds when they need their nails doing.
8) Keep your nails looking beautiful! It's so obvious, but you are a walking canvas for your business.
9) Take pictures, we can't stress what a powerful tool visuals can be to a business. When you do work (even if it's your own nails) take lots of great looking pictures to post on social media and show off your work. TIP: there are plenty of beauty apps to enhance pictures to make your nails and hands look their best!
10) Loyalty programmes. Offer your clients a reward for every 10 treatments you give them. You could put this on the back of your business cards, this means they'll be more inclined to keep hold of your card too - so they'll have your details handy for when they want to tell a friend about you.
11) Referrals are a great way to get word of mouth working in your favour. If a client refers someone to you offer them a discount as a reward. Word of mouth is the strongest way to build a client base.
12) Donate a treatment to charity. Is there a local event in your area? A fundraiser, concert, festival, a local market? Get in touch with the organisers and offer your services up as a raffle prize. It will cost of course, but everyone who enters will have seen your name - it could be great exposure for you.
13) Buddy up with local businesses. Look for businesses that are after the same clientele as you i.e. hair stylists, makeup artists, wedding dress shops etc and offer to refer your clients to them in exchange for them referring their clients to you. Make sure you pick the right businesses to buddy up with.
14) List yourself in free directories online. Just search 'nail salon directory' in google and see what comes up. Having your details available in other places online will ultimately lead to more custom. See if you can purchase ad space in local papers at a good price, you may not use local newspapers but older clients might.
---
The world is your oyster once you're working for yourself in the nail industry, you'll need to be brave and put yourself out there. Don't be afraid to chat and network, you are the face of your business after all.
Did you find this helpful? Let us know and comment below. Is there anything you can add to help other nail techs?
---
Follow us on social media - Facebook - Instagram - Twitter