Celebrity Manicurist Lucy Tucker Talks SmartPolish...
Posted on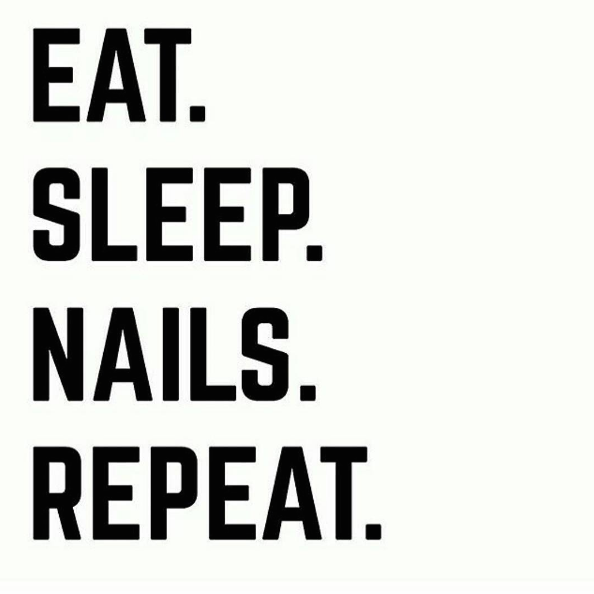 ---
We love nails, it's an art form; a creative outlet like no other. That's why we're in this business, the beauty industry is a fast paced and exciting place to be. Nails can allow you to expressive yourself like an artist, imagine getting to carry around ten little canvases of your best work on your fingertips...
We at SmartPolish are lucky enough to have met some inspirational people in this business, here is one of them.
Lucy says 'SmartPolish is a gel polish that requires no base or top coat. It cuts my time in half and is truly brilliant. And the colours are great!'.
Lucy is one talanted lady but what she's best known for is her killer nail work, a qualified nail technician, nail session extraordinaire and SmartPolish user. She's been nail obsessed since she was a young girl and is in the eviable position of having carved a successful career out of that obsession. We had a chat with Lucy about all things nails...
---
Tell us about your career and how you got into nails?
'My whole family are in the hair & nail business so it was obvious I was going to be a hairdresser or nail tech. From a young age I've always been obsessed with all things nails. I still today 20 years later love what I do.'
How long have you been doing nails?
'For about 20 years. I started working in hair salons on a Saturday when I was about 15 giving manicures while the ladies where having their hair done.'
What does your working week look like?
'One day I could be working with a celeb for an advertising shoot, another day doing a model for an editorial, or getting a celeb ready for a red carpet or being on a film set. I love that everyday for me is so different.'
What are the tools of the trade you use the most?
'I'm obsessed with cuticle oil, my boomerang nail files & my orange sticks.'
Debunk a common myth about your profession?
'That being a session nail tech is an easy job.'
Who do you follow for inspiration on social media?
'I follow a lot of the American & Japanese nail artists.'
What trends have you seen this season?
'Everyone is obsessed with chrome nails & friendship bracelet nails'
How many nail polishes do you own?
'Definitely over a thousand.'
Whose nails have you done, any big names?
'Julianne Moore,

Lady Gaga,

Kristen Stewart,

Sienna Miller,
Maggie Gyllenhaal,
Emma Watson...'
'I'm lucky enough to get a lot of re bookings, my booker is amazing.'
If you could give yourself one bit of advice when you were starting out what would it be?
'Don't get too attached to private clients. No client is loyal.'
Lastly, we know you use SmartPolish. Tell us the results you've had and how you've found the product to be? Does it save you time?
'I'm a massive fan, it's the quickest gel polish I've ever used. I love the colours, It's fantastic for when I'm on set & the celeb wants gel polish applied. I use it more for toes as it can be done in under 5 minutes! The black is my all time favourite, it's rare to find a black gel that's goes on non streaky.'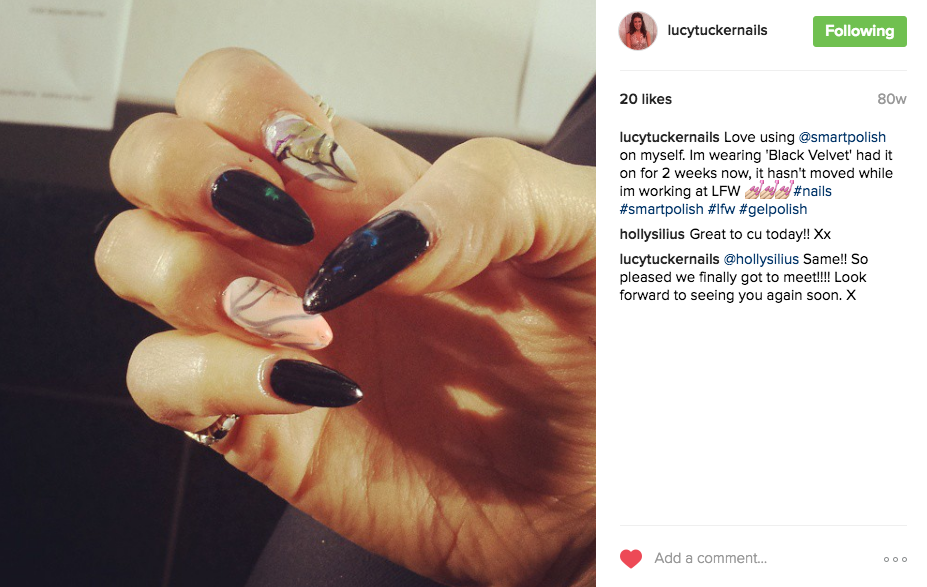 ---
For more nail related articles check back soon! Or sign up to our newsletter.
Image courtesy of Lucy's Instagram.